Ellen Azizollahoff
Mrs. A is an experienced educator who has taught almost every grade level from young children through teenagers and adults, in both formal and informal settings. She has taught at the JCCP/CBT for more than a decade, and after a brief hiatus, has returned to teach at CHSBC. Mrs. A says, "I am passionate about Jewish life and learning and about sharing the wealth of our wonderful Jewish traditions, values, texts and practices with young Jews, who will, hopefully, be the Jewish leaders of tomorrow."
Shoshana Berger
Hi! I'm Shoshana Berger (Morah Shoshana), the K-1 teacher at CHSBC. I am a senior at Stern College for Women (part of Yeshiva University) majoring in Childhood Education (1st-6th grade) . This is my second year teaching at CHSBC, and I can say with certainty that it is the highlight of my week. I love sharing my passion for Judaism with my students and getting to hear about their experiences and thoughts. I am looking forward to a wonderful year of learning with them!
Estelle Haberman
Estelle Haberman is a native New Yorker from the Bronx and lives with her husband and two daughters in Fair Lawn. She has a Masters in Teaching and an undergraduate degree in Communications. She also attended The Hebrew Arts School for Music and Dance and loves to sing and play piano. As a child of Holocaust survivors, she considers her role as a Jewish educator to be the most important calling in her life. She has taught at the Fair Lawn Jewish Center/CBI since 2009. She is an assistant teacher in a Bergen County Public School and has also taught in numerous Yeshiva Day Schools.
Cantor Yoni Stokar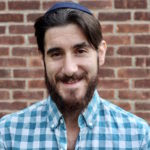 Yoni Stokar is a musician and Chazan. He is the owner and musical director of Ta Shma Orchestra, a New Jersey-based band playing weddings, bar mitzvahs, and other Jewish events. Yoni has led davening at services and ran children's musical programming for schools and synagogues all across the United States. Yoni also works full time as an Occupational Therapist, treating elderly patients in their homes in New York City and New Jersey. Yoni lives in Fair Lawn with his wife Chavie and their two sons Joseph and Perry.
Samuel "Sami" Vingron
Samuel "Sami" Vingron is a fourth-year rabbinical student at Jewish Theological Seminary of America with a major in Jewish Thought. He was raised in Berlin and completed a BA in Jewish Studies and History in Germany at the Institute for Jewish Studies Heidelberg at the Ruprecht-Karls-University of Heidelberg. Sami also studied at the Rothberg International School at the Hebrew University in Jerusalem before coming to New York. He has served synagogues and worked for Jewish communities in Germany and Israel. Sami is already enjoying his involvement in our Community Hebrew School where he teaches the 4th-7th grades.
Miriam Yankelewitz
Mrs. Y loves teaching, and has been doing so at the Fair Lawn Jewish Center for over 25 years! She's big on storytelling and getting the kids involved and excited about Jewish studies. Mrs. Y enjoys time with her children and grandchildren, and loves nature, reading, music, and baking.